Dil Raj Indian Restaurant Barnsley
---
Join us on Facebook – If you haven't already stumbled upon our Facebook fan page, this may be exciting news for those of you who love to dine! Yes, folks, we have a Facebook fan page and it's growing! If you wonder what's in it for you, here's what you'll get as our fan – Special Offers! Competitions! Invitations! Join us now
Welcome to Dil Raj Indian Restaurant Barnsley
As one of Barnsley's finest indian restaurants, we have a long reputation for the very best in hospitality and authentic indian cuisine.
Whether you are after an intimate meal for two, a group booking for a party, or even a full-blown wedding reception, our fully air-conditioned restaurant can accomodate all, with its spacious floor-plan and many cosy alcoves. Dil Raj offers a unique dining experience for locals and visitors alike. Situated in the heart of Dodworth in Barnsley with its own car park.  We are fully licensed with a wide range of authentic indian dishes including duck dishes.
Dil Raj had assembled a menu that is far beyond what may be considered traditional indian cuisine. With attention to health and diet our dishes don't use heavy oils, creams or spices, but instead rely on the authentic flavours of the dish. We welcome your visit and hope to see you soon. Please feel free to make a reservation.
Dil Raj have been awarded two highly acclaimed awards – Best Restaurant and Best Chef of the Year for Yorkshire & Humberside. Follow our Barnsley Chronicle Journey here.
Over the years Dil Raj has been privileged to have received some fantastic reviews and a number of awards.
"I don't normally leave a review when I've eaten out, but i went here last night and from stepping into the restaurant we was looked after. There service was excellent. Our food arrived and it look fantastic, and tasted better!! ENJOYED, every minute of my time here . I will def be returning!" (Mr Lockwood)
 Darren Day and his lovely wife helping us celebrate The Best Restaurant and Chef, in Yorkshire and Humber Award. HAVE YOU GOT SOMETHING TO CELEBRATE? THEN WHY NOT JOIN GORGEOUS GEORGE AND THE REST OF THE TEAM. 
We're extremely proud to announce The Original Dil Raj won two prestigious awards this weekend at the National Asian Curry Awards in London! We were awarded Best Restaurant of the Year in Yorkshire and Humberside. Our Chef Mohammed also won The Best Chef of the Year Award for Yorkshire and Humberside! Please share the good news, we're extremely proud and hope you will all join with us to celebrate. Listen to our interview on BBC Radio or Follow our Barnsley Chronicle Journey.
 We're heading for London this weekend after making it to the finals of the National Asian Curry Awards! Our head chef Mohammed is in the final of The Best Chef, and Dil Raj in The Best Restaurant category. It's a great honour to have been nominated. 
There's nothing better than being at home, The honourable MP Dan Jarvis fresh from Westminster, pop's into The Dilraj before heading home.
 BBC Antique Show's Eric Knowles with our very own Gorgeous George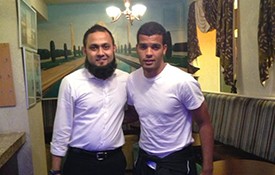 Barnsley FC enjoying Dil Raj!.
 Congratulations to young Lauren. Lauren has achieved a 2.1 in her degree. Stood here with Barnsley F.C's,  Bobby Hassel and our very own Gorgeous George.
Here we have young Jessica Senior who popped into the restaurant to celeberate her achievement at Barnsley College. Jess was awarded a Business & Management certificate for her outstanding efforts. (Well done to all students at Barnsley College).
Harry Gration with Miron and Gorgeous George! We we're delighted to welcome Mr Gration to Dil Raj.
Whenever we eat at another Indian Restaurant in the area we always say, "wish we had gone to the Dilraj". We've been coming here since the place opened and it has been consistently top notch. Friendly, comfortable and great food. - Trip Advisor
At the award winning Dil Raj Rrestaurant a very warm welcome and spacious comfortable surroundings are just a small part of the experience. The restaurants interior is sleek with stylish modern furniture and clever soft lighting to complement some of the amazing art adorning the interior walls. - Barnsley Eye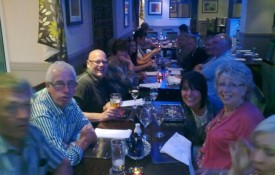 What do Darren Gough, Arthur Scargill, Mick McCarthy and Sir Harold Bird have in common? Apart from being Yorkshire born and bred, they're all partial to a spot of Indian food at Dil Raj. - Sheffield Telegraph
WEBSITE BY SPINBOX WEB DESIGN – Creative, Fresh and Innovative Web Design at Affordable Prices. www.spinboxwebdesign.co.uk